2022 Events
Click here to join our email list
January 2022
Delta Conservancy Announces Delta Drought Response Pilot Program
To reduce drought stress in the Delta watershed, protect Delta water quality, and improve mutual understanding of agricultural practices and water conservation opportunities in different regions within the Legal Delta, the Sacramento-San Joaquin Delta Conservancy, in partnership with the Department of Water Resources and the Delta Watermaster, is announcing the initiation of the Delta Drought Response Pilot Program (DDRPP).
Click here for program details. 
Delta Conservancy Board Meeting
Wednesday, January 26
9:00 a.m. – 1:00 p.m.
Location: Virtual
Click here to view the meeting materials
March 2022

Delta Island Adaptations: First Public Workshop
Tuesday, March 15
4:00 p.m.
Click here for more information
Delta Conservancy Board Meeting
Wednesday, March 23
9:00 a.m. – 1:00 p.m.
Location: Virtual
"Reorienting to Recovery" Salmon Webinar
Wednesday, March 30
9:00 a.m.
Click here for more information
May 2022
Delta Conservancy Board Meeting
Wednesday, May 25
9:00 a.m. – 1:00 p.m.
Location: Delta Conservancy conference room
June 2022
Invasive Species Action Week Lunchtime Talk
Early Detection & Rapid Response in the Sacramento-San Joaquin Delta
Friday, June 10
Noon
Location: Virtual
Click here for more information
July 2022
Delta Conservancy Board Meeting
Wednesday, July 27
9:00 a.m. – 1:00 p.m.
Location: Delta Conservancy conference room
October 2022
Delta Conservancy Board Meeting
Wednesday, October 26
9:00 a.m. – 1:00 p.m.
Location: TBD
---
Delta Conservancy Board elects new Chair, approves millions for projects
The projects will support ecosystem restoration, climate resilience, community enhancement, and public access
WEST SACRAMENTO – (JULY 27, 2022) – The Sacramento-San Joaquin Delta Conservancy Board today elected a new Chair and approved seven new projects, totaling up to $5.4 million, as part of multiple programs aimed at improving Delta conditions related to ecosystem restoration, climate resilience, community enhancement, and public access.

Solano County Supervisor Mitch Mashburn will serve as the Conservancy's Board Chair for 2022-2023. He will replace Sacramento County Supervisor Don Nottoli, who was Chair for 2021-2022. Board Member Sandi Matsumoto will continue to serve as the Conservancy Board's Vice Chair.

"The Conservancy looks forward to having Supervisor Mashburn as our new Chair. We offer our many thanks to Supervisor Nottoli for serving in the post and congratulate him on his upcoming retirement in January 2023," said Campbell Ingram, Delta Conservancy Executive Officer.

The seven newly approved projects involve dozens of entities partnering to improve the Sacramento-San Joaquin Delta. The projects comprise wetland restoration, enhancing habitat conditions for animals and plants, invasive species removal, improving water quality, increasing public access to natural areas, and bolstering habitat resiliency to climate change.

"These projects were developed and approved with local support and will continue the vital work of enhancing the Delta ecosystem and economy in the short and long term," Ingram said.

The approved projects are:
###
COVID-19 Updates
For the latest information and guidance about COVID-19, please visit California's COVID-19 webpage: https://covid19.ca.gov/.

Click here to take a brief survey to share your experience related to the COVID-19 vaccines and their impact.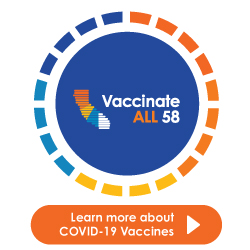 Reflecting on the Delta, Delta Week 2020
By Senator Bill Dodd, 9/30/20
It's hard to overstate the importance of our Delta to the people of California. Not only is it the lifeblood of our water supply, critical for drinking and agriculture, but it supports a vibrant ecosystem in one of the largest estuaries in North America.
Keeping it healthy over the years amid environmental and human-caused challenges has been a priority of its many stewards including the Sacramento-San Joaquin Delta Conservancy and the Delta Protection Commission.
Two years ago, I teamed with both agencies to highlight threats to the precious waterway by designating seven days each September as Sacramento-San Joaquin Delta Week. We kicked it off with an organized cleanup in which hundreds of volunteers descended on the region, removing tons of garbage from designated wetland areas.
Unfortunately, the coronavirus pandemic is preventing us from gathering again this year to mark Delta Week's third anniversary. The risk of infection is too great. However, individual, self-guided cleanups are planned and educational initiatives will play out on social media.
Because even though we are not scouring shorelines and trudging across tidal marshes this year to fish out discarded tires and rusted old appliances, protecting the Delta remains vitally important. Awareness is key.
Simply put, the Delta is an ecological wonder of global significance. And it is threatened on multiple fronts. Climate change is reducing the amount of fresh water coming into the estuary, upsetting fish and bird populations. At the same time, sea level rise and historic farming practices have caused the Delta region to sink below sea level.
So much is riding on protecting a region that provides water to more than 25 million Californians and 3 million acres of agricultural land. It's a habitat for more than 750 species of plants and wildlife as well as more than 55 species of fish.
It provides migratory waterfowl an important stop on the Pacific Flyway. Each year, the world-class recreational destination attracts nearly 12 million visitors.
And it's home to more than 500,000 people with 200,000 jobs, contributing more than $35 billion annually to the state's economy.
Suffice it to say, the Delta is important. So while we may not be reading a proclamation this year in the Legislature or gathering in groups to volunteer, I encourage everyone to take a moment to reflect on the Delta and if possible, go out on your own to do your part. Officially, Delta Week kicked off with individual cleanup Sept. 26, but I urge you to get out over the next few days and do what you can. Remember to wear your face mask.
The pandemic and record wildfires have made this a challenging year. I'm hopeful things will be better in 2021. I look forward to seeing you then, in the Delta.
###
Senator Bill Dodd represents the 3rd Senate District, which includes all or portions of Napa, Yolo, Sonoma, Solano, Sacramento and Contra Costa counties. More information on Senator Bill Dodd can be found at www.senate.ca.gov/dodd.
In Recognition of Sacramento-San Joaquin Delta Week 2020
By Campbell Ingram, Executive Officer, Sacramento-San Joaquin Delta Conservancy, 9/28/20
This week marks the third annual Sacramento-San Joaquin Delta Week, in which we celebrate the crucial role of the Sacramento-San Joaquin Delta in California's economy and environment. While so many things around us have suffered setbacks due to the impacts of COVID-19 and California wildfires, we at the Sacramento-San Joaquin Delta Conservancy think it is still important to recognize Delta Week and the work that is pushing forward. We are proud of the efforts still progressing to preserve, protect, and restore the Delta, including the advancements of our Delta Carbon Program.
It is an exciting time in the Delta with more landowners, public and private, converting to land use practices that stop subsidence and the carbon dioxide (CO2) emissions that are caused by subsidence. When the highly-organic peat soils in the deeply-subsided areas of the Delta are drained for agriculture, microbes take advantage of the oxygen in the system and digest the peat. The byproduct is CO2 that volatizes into the atmosphere. This oxidation results in subsidence and is the reason there are islands in the Delta that are 25 feet or more below sea level. Fortunately, subsidence can be stopped simply by re-saturating the soil, and better still the carbon market can provide a revenue stream that can be a strong incentive to make these changes.
The American Carbon Registry (ACR), a registry for the voluntary carbon market, approved a protocol for the Delta that allows landowners to re-saturate the land and grow rice, or allow the natural wetland vegetation, tule reeds, to cover the land. These managed wetlands stop subsidence and carbon emissions, and the protocol provides a method for quantifying the CO2 emissions reduction and certifying carbon offsets that then can be traded on the voluntary market.  
Recently ACR certified the first wetland carbon offsets, the first time this has been done anywhere globally. The Department of Water Resources (DWR) and the Delta Conservancy used the protocol to evaluate three managed wetland projects, totaling 1,700 acres. The resulting offsets were verified by a third-party auditor, a requirement of the protocol, and certified. This will allow DWR to either sell the offsets for revenue (approximately $60/acre/year) or retire the offsets to count toward their carbon emission reduction goals. While the value of the credits, about $60/acre, may not be the most compelling incentive today, the market is expected to grow. Additionally, if a farmer chooses to grow rice the carbon revenue is on top of the rice production revenue, which is significantly higher than most of the commodities currently grown in the region.
There are also habitat benefits from converting to managed wetlands and rice cultivation: both improve biodiversity by supporting birds, waterfowl, amphibians, and aquatic invertebrates. 
This win, win, win opportunity is attracting attention! We have been working with several public and private landowners and expect that in the next two to three years between 4,000 and 5,000 acres will be converted to rice or managed wetlands. The Delta Conservancy and our team of consultants and carbon market experts is working to provide technical assistance to help these landowners connect their projects to the carbon market.
As California continues to display resilience in the face of many current challenges, Delta Week 2020 is a reminder of what the efforts of the Delta community can accomplish for our region!
If you have questions about this program, please reach out to Campbell Ingram, Executive Officer of the Sacramento-San Joaquin Delta Conservancy: campbell.ingram@detlaconservancy.ca.gov.  
10th Anniversary of the Delta Conservancy
By Campbell Ingram, Executive Officer, Sacramento-San Joaquin Delta Conservancy, July 2020
This year marks the 10th anniversary of the Sacramento-San Joaquin Delta Conservancy. The Delta Conservancy was created as part of the Delta Reform Act passed in late 2009, and in March of 2010, the Delta Conservancy Board met for the first time. We have accomplished so much since that first Board meeting as the Conservancy has evolved and grown into our role as a state partner for ecosystem restoration and economic development in the Delta and Suisun Marsh.
Significant funding for the Conservancy arrived with the passage of Proposition 1 in late 2014. Staff went to work developing and implementing our Ecosystem Restoration and Water Quality grant program, that to date has resulted in 29 community-supported projects enhancing over 8,000 acres in the Delta. With the more recent passage of Proposition 68, the Conservancy has developed our Community and Economic Enhancement grant program that will fund projects that support the economic vitality of the Delta and serve its disadvantaged communities. In addition to these grant programs, the Conservancy has led and supported many important collaborative planning and outreach efforts. We have also been a driving force for the development of market-based incentives to address subsidence and related carbon emissions. The Conservancy was honored when the American Carbon Registry presented the 2017 Innovation Award to the developers of this landmark methodology for California wetland restoration.
The Delta Conservancy has maximized the funding and resources available to us, and our staff and Board have realized the intent of our enabling legislation and become a trusted and effective partner. The Conservancy has clearly demonstrated the value of a state partnership and what can be accomplished in the Delta when we work together.
I would like to personally thank all past and current Board members and Ex-Officio Legislative members for their guidance and contributions to our achievements. And to past staff, many of whom have gone on to significant leadership roles, and our current team of bright and dedicated public servants; thank you for all your hard work and for making the Conservancy a great organization.
Our stage is set for a bright future as we continue to engage the Delta community. What comes next for the Delta Conservancy will depend largely on available funding, there is no limit to what we can do if resourced to do it! Happy 10th Anniversary, Delta Conservancy!! Here's to many more.