Delta Carbon Program
The Conservancy Board adopted a climate change policy in 2012 that guides the Conservancy in developing, establishing, and supporting projects that have the capacity to mitigate for climate change by reducing greenhouse gas emissions, or can increase the system's capacity to adapt to the effects of climate change.
Through thousands of years of sea level rise, wetland plants grew in saturated soils within the Delta. This created peat, a highly-organic and carbon-rich dirt. In many areas of the Delta, water has been removed from the root zone in order to plant corn, because corn cannot be planted in wet soil. Removing the water exposes the soil to oxygen, and microbes begin to eat the peat. This process reduces the peat and releases carbon dioxide.
Subsidence can be compared to the process of burning a log, where heat converts the mass of the log into a gas. With subsidence in the Delta, microbes convert the mass of carbon into gas (carbon dioxide and particulate matter), so the peat is dissolving.
Currently, subsidence in the Delta is continuing at a rate of about one to one-and-a-half inches per year. There are about 200,000 acres of deeply-subsided land, with some areas even at 25 feet or more below sea level. Subsidence is a threat to California's water supply, and highly-subsided areas are a large source of carbon emissions.
To address this problem, the Conservancy has worked with a large partnership to develop pilot projects and inform policies that recognize the Delta as a significant carbon sequestration opportunity area. The group secured funding and developed a California Wetland Protocol, which was adopted by the American Carbon Registry (ACR) in the spring of 2017. The protocol allows landowners to stop subsidence on the land by growing tule as part of a managed wetland or cultivating rice, and then take the quantified emission reductions to the voluntary carbon market.
Click here to watch a video about the causes of subsidence, and how this landmark methodology functions.
Video Highlight: Twitchell Island Restoration
Partners in this effort include:
The partnership is currently working with public and private landowners and project developers to build pilot projects that can verify greenhouse gas emission reduction credits and realize revenue by trading credits on the voluntary carbon market. If the voluntary protocol can be demonstrated, the Air Resources Board will consider adopting the protocol under the Cap-and-Trade compliance market, and thereby double the value of the credits and add further incentive for change.
The methodology was awarded the American Carbon Registry's Innovation Award in April 2017. Click here to learn more about the Innovation Award.
About 750 acres of corn were converted to wetlands on Twitchell Island in 2013 (photos by Hydrofocus, Inc.):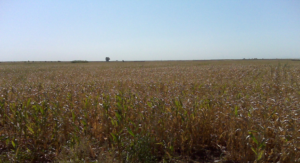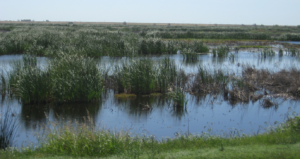 Resources