Delta Waterway Cleanups
Creek Week with the Sacramento Area Creeks Council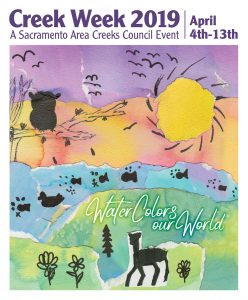 Be part of an area-wide volunteer effort to improve and enhance our urban waterways! Trash and invasive plant removal and water quality testing all help support a healthy creek system.
You will have a great time and feel great about the work you have done to help protect our environment. Our creeks flow into the Sacramento and American rivers. Helping with Creek Week and taking action promotes creek health and also benefits our rivers!
The Splash Off will be on Thursday, April 4, from 11:00 a.m. to 12:00 p.m. at Camp Pollock (1501 Northgate Blvd., Sacramento, CA 95815). This is the kick-off to Creek Week, where we recognize the Annual Creek Steward Award and share more information about the Clean-Up Day!
The Clean-Up Day will be on Saturday, April 13, 2019 from 9:00 a.m. to 12:00 p.m., with clean-up sites located throughout the region. A celebration will follow at Carmichael Park (5750 Grant Avenue, Carmichael, CA 95608) from 12:00 p.m. to 2:00 p.m. To find a clean-up site near you, visit: creekweek.net
California Coastal Cleanup Day – September 21, 2019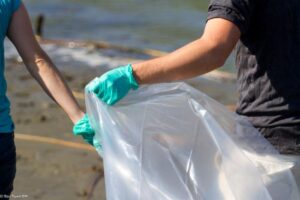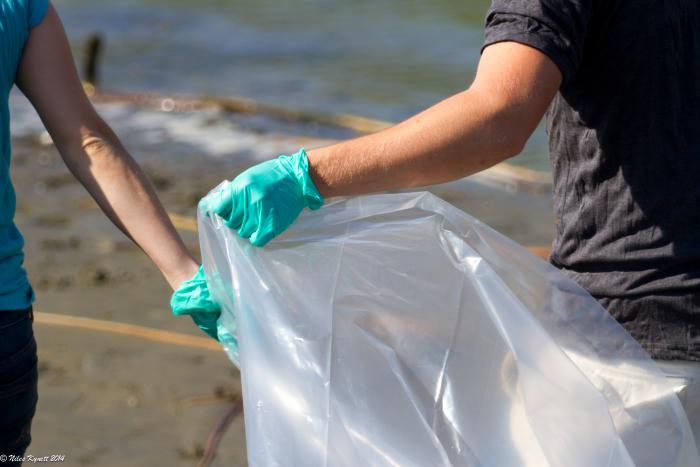 The Conservancy co-sponsors two annual cleanups to educate and promote awareness of the importance of protecting and improving water quality in the Delta. The trash that finds its way to the Delta is a serious water pollution problem for both humans and wildlife. At Delta Waterway Cleanups, volunteers actively participate in water stewardship practices by cleaning up trash and preventing it from reaching waterways and ultimately, the ocean. Delta Waterway Cleanups provide a personal experience connecting volunteers with the issue of trash pollution. After participating in a Delta Waterway Cleanup, volunteers recognize first-hand the need to reduce the amount of waste we create, recycle and reuse the waste we do create and dispose of waste properly and thoughtfully.
The next Delta Waterway Cleanup is scheduled to take place Saturday, September 21, 2019 as part of California Coastal Cleanup Day in partnership with the Delta Protection Commission and the California Coastal Commission. We will be hosting cleanup sites this year at Lower Morrison Creek/Bufferlands and Sherman Island.
Lower Morrison Creek/Bufferlands:
The Bufferlands is an important nature area that provides hundreds of acres of wildlife habitat, farmland and open space in a rapidly urbanizing area of California. This site along Morrison Creek is great for families. It's complete with little challenges for the young ones and bigger challenges for the adults. It's near Freeport and only 5 minutes from I-5 & and the newly completed Cosumnes River Blvd. The focus of the clean-up will be wildlife hazards, mostly small plastic items. Larger items may be left for a special crew.
Directions – From Interstate 5, take the Cosumnes River Blvd exit, travel east on Cosumnes River Blvd for approx. 1.7 miles. Watch for signs, and turn right onto a small dirt road that leads into the Bufferlands. Drive approximately 4.4 miles (observe the 10 mph speed limit) and follow signs to the parking area.
Sherman Island:
Help Rio Vista Windsurfer Association and Sherman Island Kiteboarding Organization volunteers clean a 1.6 mile stretch of the Sacramento River along the north side of Sherman Island. Report at 9:00 at "The Sign" where leaders will provide an orientation, facilitate carpooling, and assign clean-up spots. Parking is difficult along the river, so volunteers are encouraged to carpool to their assigned spot. Sturdy shoes and gloves are a must at this site. This site is not suitable for young children because of close proximity to the road and rocky areas.
Directions – From south on West Sherman Island Road, take the left fork immediately southwest of the RV park and follow signs to park. You can use this address for your GPS, but there will not be a physical building on your arrival: 4632 West Sherman Island Road, Rio Vista CA.
Grizzly Island Trail:
Located in Suisun City, this trail runs for approximately 1 mile along the northern edge of Suisun Marsh where Laurel Creek flows into the marsh. It is a flat, paved, protected trail that is great for families with lots of beautiful views of the marsh and wildlife. The site is south of CA-12 and about 15 minutes east of I-80.
Directions – From I-80 travel east on CA-12. Take the Marina Blvd. exit and turn south on Marina Blvd. We will meet at the intersection of Marina Blvd and Driftwood Dr.
Delta Meadows:
Join a trash hunt in the tiny historic town of Locke, CA while hiking along a beautiful wooded lagoon. At the end of the cleanup, participants will receive a free ice cream cone! Our guided trash hunt starts at 10:00am and ends a noon at the Lockeport Grill & Fountain. Bring a sack lunch, water, bug spray, and sturdy shoes. Families welcome. Optional bonus: Trash hunters may opt to take 20 minutes along the lagoon to paint a water color postcard they may keep. Watercolor supplies and an easy 5 minute painting lesson is provided free by the site leader, Martha. Limit of 25 people.
Directions – From I-5 take the Twin Cities Rd. exit. Go west to River Rd. and then drive south on River Rd. approximately 1 mile to the town of Locke. Turn left on Locke Rd., drive about 250 feet, and park in the public lot. Meet at Lockeport Grill & Fountain: 13959 Main St., Locke, CA, just a short walk from the parking lot.
In the spring, the Conservancy hosts waterway cleanup sites as a part of the Sacramento Area Creeks Council "Creek Week". For information on Creek Week, click here.
In the fall, the Conservancy hosts waterway cleanup sites as a part of the California Coastal Commission's California Coastal Cleanup Day. For information on the International Coastal Cleanup Day, click here. To register as a volunteer, click here.
For more information on the cleanups or volunteering, contact Aaron N.K. Haiman at (916) 376-4023 or by email at aaron.haiman@deltaconservancy.ca.gov