Delta Conservancy Announces Delta Drought Response Pilot Program
To reduce drought stress in the Delta watershed, protect Delta water quality, and improve mutual understanding of agricultural practices and water conservation opportunities in different regions within the Legal Delta, the Sacramento-San Joaquin Delta Conservancy, in partnership with the Department of Water Resources and the Delta Watermaster, is announcing the initiation of the Delta Drought Response Pilot Program (DDRPP).
Funds are available to incentivize agricultural water users in the Legal Delta to take actions expected to reduce crop consumptive water use and protect water quality. The program will offer Delta water users $900 per enrolled acre.
View the Solicitation Summary and application form.
By rigorously monitoring the outcomes and impacts of a variety of actions in different settings throughout the Legal Delta, the Pilot Program will provide data to support targeted water conservation/quality protection responses during sustained and/or future droughts.
---
Save Our Water
You use water every day at home. Brushing your teeth, washing out your milk glass, taking a shower or bath—all of these activities use water. But water is a limited resource. Help save California's water by changing the way you use water inside and outside your home. Learn more about water and what you can do to Save Our Water!

---
Delta Conservancy Board Meeting
The next Conservancy Board meeting is scheduled for Wednesday, January 26, 2022, from 9 a.m. until 1 p.m.
NOTICE RE: BOARD MEETING
Pursuant to Assembly Bill 361 and Executive Order N-1-22, Board members, staff, and the public may participate remotely. The public may observe, provide public comment during the public comment periods, and otherwise observe remotely in accordance with the Bagley-Keene Open Meetings Act. Questions and public comment can be addressed to contact@deltaconservancy.ca.gov prior to and during the meeting. If you have not used the Zoom teleconference platform before, you will be prompted to download an application. This is quick and there is no cost.
Thank you for your understanding as we adjust our operations to protect public health while continuing our important work.
Click here to view the meeting materials and Zoom meeting link.
---
Delta Conveyance Project Environmental Justice Community Survey
The Department of Water Resources (DWR) undertook the "Your Delta, Your Voice" survey to gather input from disadvantaged community members who live or work in the Delta. The survey was available online from September 30 through December 11, 2020. DWR arranged for Ag Innovations to lead survey development and outreach. They were supported by numerous partners and agency staff.
The objective of the survey was to inform DWR through gaining a better understanding of the priorities, values, and needs of Delta's diverse communities. It also aimed to gather perspectives and information about how community members value, experience, and depend on the region's cultural, recreational, natural, agricultural, and economic resources in order to identify how the project may impact those resources or potentially bring benefits to Delta communities.
The full Environmental Justice Community Survey Report and Executive Summary are available in additional languages on the Delta Conveyance Project's Environmental Justice webpage.
---
COVID-19 Updates
For the latest information and guidance about COVID-19, please visit California's COVID-19 webpage: https://covid19.ca.gov/.

Click here to take a brief survey to share your experience related to the COVID-19 vaccines and their impact.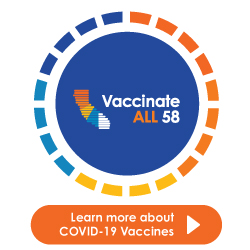 ---
Notice RE: Office Closure
The Delta Conservancy office is closed due to COVID-19 related directives and orders from state and local agencies to prevent the spread of the virus.  Staff are working remotely. You may email or call staff as usual, but responses to telephone messages may be slightly delayed.  You may also reach us at our general email contact@deltaconservancy.ca.gov and mail telephone (916) 375-2084.
All Californians are encouraged to follow the advice of the California Department of Public Health and local health agencies to prevent the spread of the virus.
---